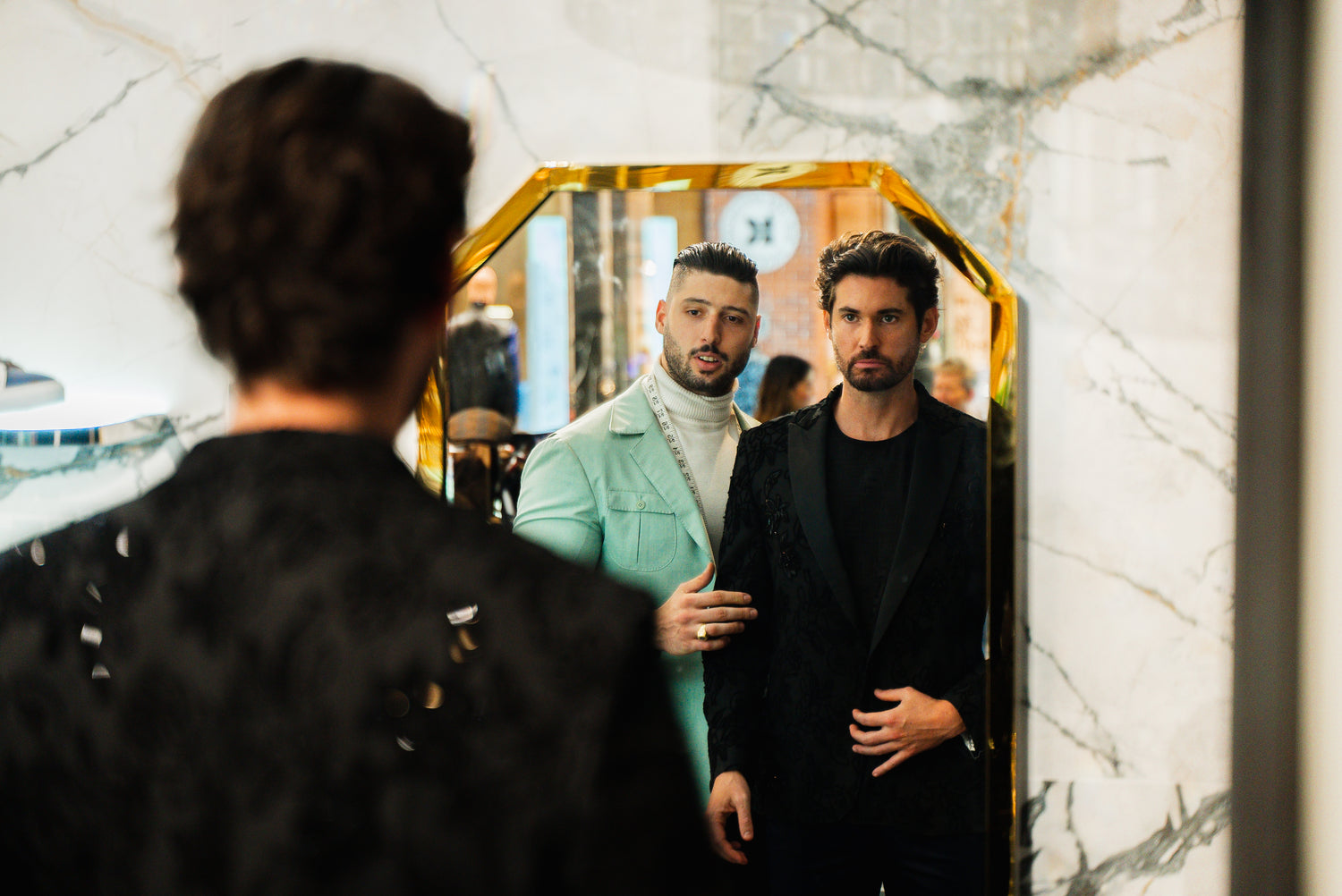 Made to Measure & Custom Men's Suiting
From spirited to classic… and debonair, to casual; All URBBANA garments are simply an expression of luxury. Since founded, URBBANA's reputation of excellence and quality of all products hasn't been compromised or changed. We've fitted thousands of gentlemen who we now consider loyal clients and friends at the same time.
We invite you and your groomsmen to join us for a complimentary consultation session at our flagship 'gentleman's emporium' store on Edward Street - Brisbane.
Book An Appointment

Book A Fitting

Suit Pattern Making

Measurements

Stylist

Book Your Appointment
To produce the ideal result comfort, fit, we have 15 years and the mix of traditional skills, and latest technolgy.
The most crucial step in the process for true bespoke tailors is creating the patterns your very own pattern with all the curves incorporated to fit your body perfectly.
The most thorough method you will encounter body types, fits, and styles all require distinct measurements to match an exact fit and surpass any garment you have ever worn.
Professional tailors and stylists' have the knowledge and international experience from Italy and Turkey. Not to mention a limitless array of luxurious fabrics.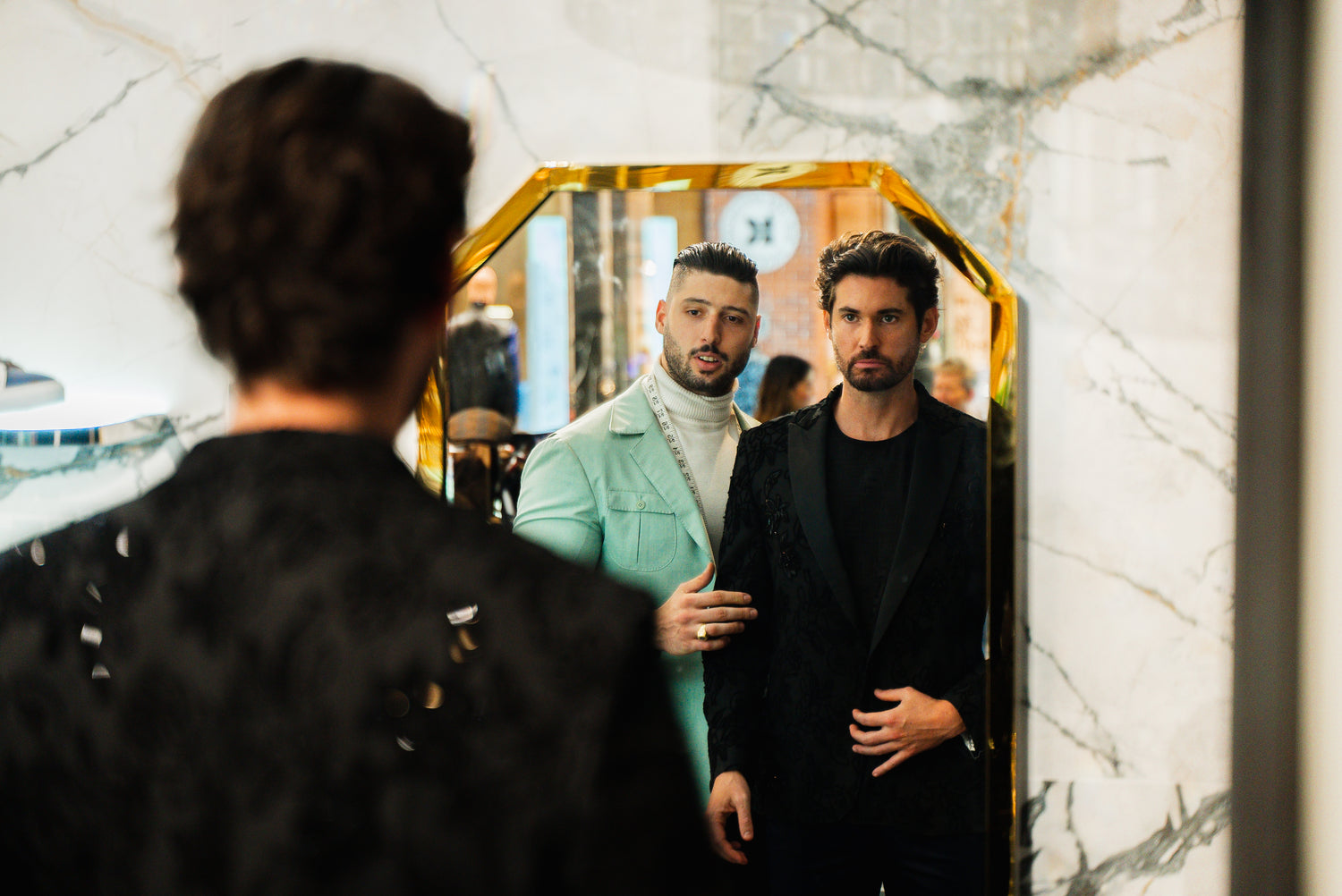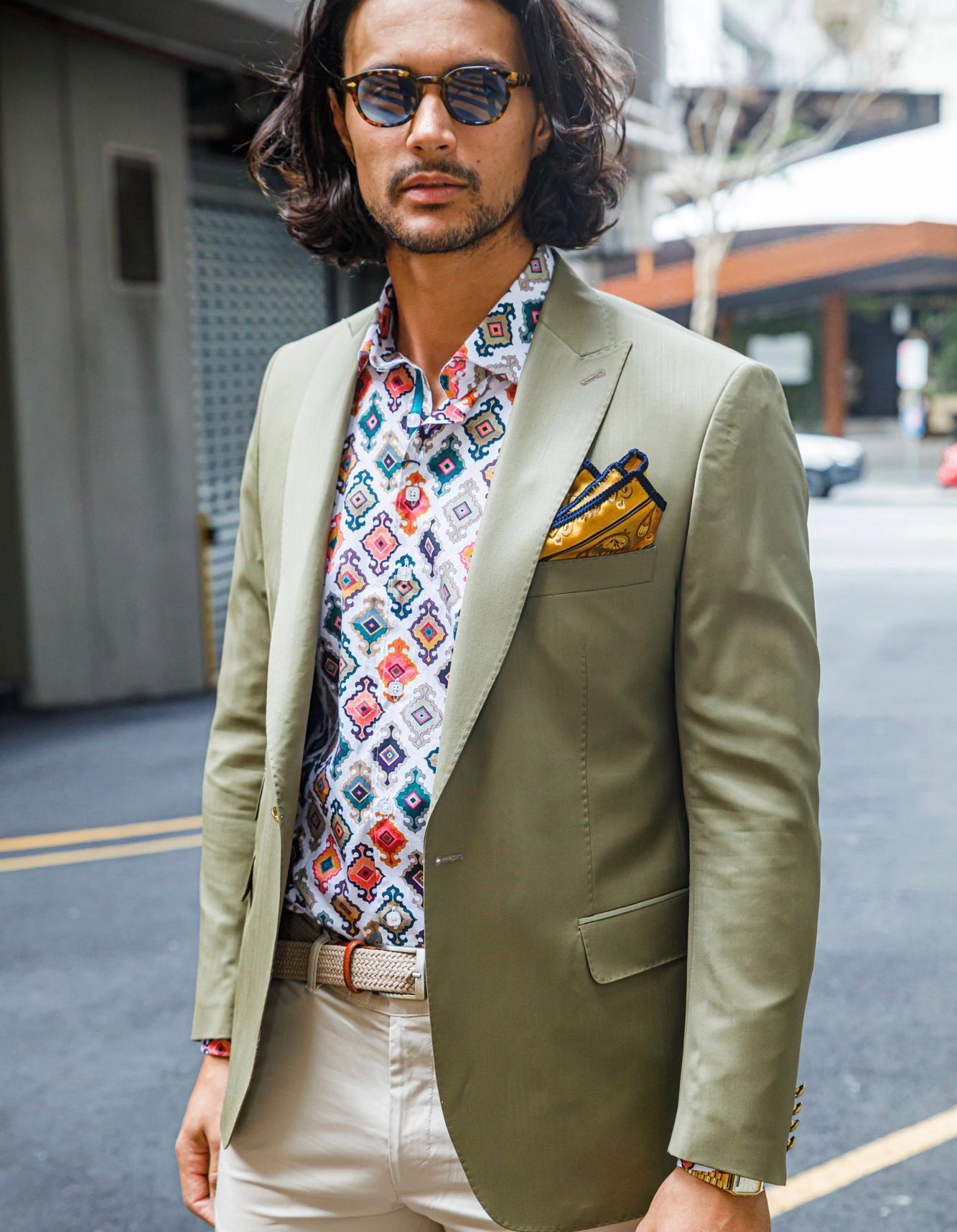 Custom Suiting Process
Fitting

At Urbbana, we do as many fittings as necessary to produce the ideal result, unlike many other tailors. We will schedule as many fittings as necessary to ensure that each and every one of our customers leaves our shop wearing a custom suit that flatters them and draws compliments. 

Your comfort is our top focus during your fits, and we'll ask you detailed questions to get a sense of how you really feel. 

We have greatly improved our fitting process and reduced the number of fittings required while still reaching the ideal result compared to what was previously required with bespoke thanks to our experience fitting thousands of people over the past 15 years. It was purely refined to work with the time-constrained schedule of the modern man. 

At Urbbana, we place a high priority on the suit's fit. No matter how much you paid for it, a good piece of clothing won't make up for a bad fit. 

Our state-of-the-art software system, which combines our old world craftsmanship with modern world technology, records everything digitally, allowing our tailors to see your clothes on you even when you're not there.
Pattern Making

Similar to how crucial it is for an architect to provide clear and accurate plans for a structure, the most crucial step in the process for true bespoke tailors is creating the patterns. 

This is the key distinction between a custom suit and a made-to-measure suit, as well as the major advantage an Urbbana suit has over those of our rivals.

Every person that enters our doors is a different shape and unique in their own way, not to mention that every person has varied needs in terms of fit. There is no one size fits all solution. 

The main advantage is that, instead of merely having a set of measurements, we now have the ideal pattern for you going forwards.

Many other tailors would advise you that you can order as many outfits as you like once they get your measurements. Contrary to what is generally believed, we strongly disagree! We can very much promise that the outcome will be slightly different from where you left off with your previous garment and that you will find yourself back at square one at your first fitting if we give the same set of measurements to the same tailor two weeks apart.

The measurements are less important than the elegant way a master tailor curves the line from point A to point B to fit the human body. The degree of that curve is ultimately what determines how well the garment will fit. Since we have previously fine-tuned your fit throughout the fitting procedure and now keep your very own pattern with all the curves incorporated in your pattern for any future orders, ordering more clothes becomes much quicker and easier. 

In particular, once your pattern is developed, the relationship you develop with your own personal tailor throughout a lifetime is unlike any other.
Measurements

At Urbbana, we cater to all, there is no such thing as an unusual frame. No matter your body type—tall and lean, short and round, big and muscular, pot-bellied, or disabled—we recognise that each body type requires a particular measurement to ensure a proper fit

This is the most thorough method you will encounter as we use our very own exclusive set of 40 to 45 measurements. Your very own personal tailor has the expertise and experience to not only guide you through the process while educating you, but will also determine the best fit for you based on all the probing questions we ask you when measuring you for your garment.

As diverse body types, fits, and styles all require distinct measurements to match an exact fit and surpass any garment you have ever worn, it takes a genuine master tailor many years to perfect the art of measuring.

At Urbbana, we take measurement to a whole new level by producing a detailed blueprint for each customer to ensure a fit of perfection.

As your measurements sing to a true artisan and leap out of a tape measure, you will be at ease. Your very own personal tailor dances with the tape in front of you as a beautiful tango plays out before your very eyes, giving you an experience unlike any other.
Stylist

When you start working with Urbbana's made to measure tailors, you are presented with a limitless array of luxurious fabrics.  The Urbbana brand with our professional tailors and stylists' have more than 15 years of knowledge and experience right at your fingertips. 

Working in our own workshops in Italy and Turkey, we can walk you through each step of our hand-making process. 

Before designing each garment we carefully consider and take into consideration the appropriate fabric weight, composition, and design characteristics of the individual piece. More than that we curate with the customer on the specifics such as individual style and taste and the preference of fit and function. 

Having a suit that is simple to put on and looks beautiful while it is in place is of the upmost importance when attaining the greatest fit and appearance. Each garment requires specific style methods, all of which are available at Urbbana.
Your First Custom-Made Suit

At Urbbana, we believe there is nothing more satisfying in this world than a perfectly tailored suit. It exudes luxury, class, and confidence, and it's an extension of yourself. This suit was made for you. Whether you're looking for a custom wedding suit or cocktail suit, as soon as you see yourself in a garment crafted exclusively for you, you'll never want to wear anything else again. read more...